​
About Our Church
It is my pleasure to welcome you to the website of Reformation Bible Church. Since our founding in 1952, scores of families have found a sanctuary for the worship of God and a loving spiritual family here at RBC.
Our name communicates the principles that lie at the heart of who we are. Fundamentally, we are a Church, which is Scripture's word for a congregation of sinners whose lives have been mercifully delivered from ruin and summoned to the high calling of knowing Christ. We love and believe the Bible, so each of our gatherings are intended to bring people face to face with God's Word through traditional hymns and expositional Bible preaching. And we celebrate the Biblical truths recovered in the Protestant Reformation, particularly the doctrines of free grace taught in the London Baptist Confession of Faith of 1689.
Our people are friendly, and the atmosphere of our services displays a reverence for God. We invite you to join in our worship, as we seek to honor our Lord with joyful sobriety, reverent enthusiasm, humble boldness and dignified simplicity.
"O praise the LORD, all ye nations: praise him, all ye people. For his merciful kindness is great toward us: and the truth of the LORD endureth for ever. Praise ye the LORD" (Psalm 117).
By Grace,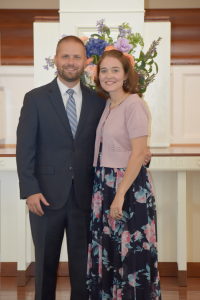 Adam Eshleman
Pastor