Members from all generations enjoy warm fellowship through a variety of church activities throughout the year. Whether it is enjoying a summer picnic, serving the community or singing Christmas carols on a frosty evening, joy is found in being together with our brothers and sisters in Christ. View our photo gallery of events below and visit our Facebook page for additional pictures.
Missions Presentation and Ice Cream Fellowship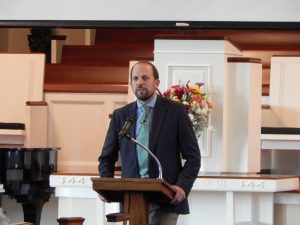 On Sunday July 16, RBC was delighted to have the Bixby Family from France. Tim preached during the morning service, and gave a missions presentation during the evening service. Following the evening service, RBC hosted an outdoor ice cream fellowship under the car canopy of the high school building. During the event, Pastor Eshleman handed out awards for the RBC Summer Scripture Memory Challenge.
.
Baptismal Service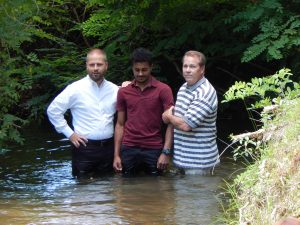 On July 12, Pastor Eshleman baptized seven candidates. During the morning service, he baptized one lady by sprinkling. After the morning worship, the congregation reassembled at the creek for six baptisms by immersion. A number of the fathers of these teenage candidates assisted with the baptisms.
New Parking Lot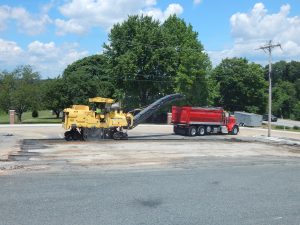 During late June and early July, Barnes Paving milled the old north parking lot behind and beside the church, and repaved it with a new coat of blacktop.
Family Council Winter Fellowship
The Family Council held its Winter Fellowship on February 1. At 5 PM, a number of families assembled in the Fellowship Hall for a time of food and games. The evening concluded with a hymn-sing and a devotional on Psalm 92.
Fellowship Luncheon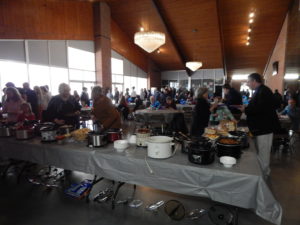 During the morning worship service on January 19, Pastor Eshleman preached a message on "God's Gracious Outstretched Hand." Following the morning service, families reassembled in the chandelier lobby of the high school building for a potluck fellowship luncheon.
Baptismal Service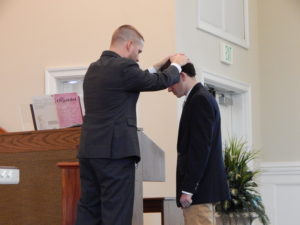 Acts 16:33 says: "And [the Philippian jailor] took [Paul and Silas] the same hour of the night, and washed their stripes; and was baptized, he and all his, straightway." On January 5, Pastor Eshleman likewise baptized one young man during the morning worship service.
December 22 Evening Service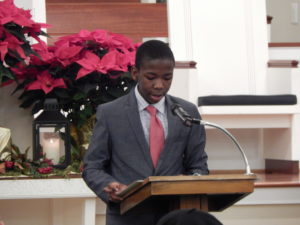 Micah 5:2 says: "But thou, Bethlehem Ephratah, though thou be little among the thousands of Judah, yet out of thee shall he come forth unto me that is to be ruler in Israel; whose going forth have been from of old, from everlasting." On Sunday evening December 22, teenage boys from the congregation read Scriptures concerning this ruler born in Bethlehem, and the congregation sang Christmas carols.
Soup & Song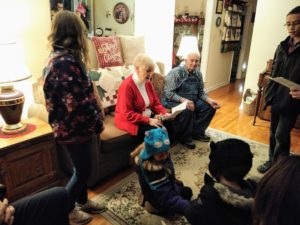 Luke 2:13-14 says: "And suddenly there was with the angel a multitude of the heavenly host praising God, and saying, Glory to God in the highest, and on earth peace, good will toward men." On Wednesday evening December 18, families from Reformation Bible Church spread the good news of Christ's birth in song to a number of seniors and shut-ins. After caroling, families returned to campus to enjoy a time of food and fellowship.
Lessons & Carols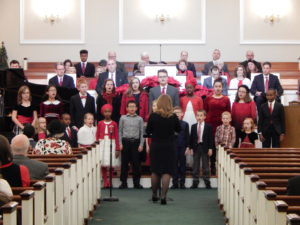 Galatians 4:4-5 says: "When the fullness of time was come, God sent forth his Son, made of a woman, made under the law, to redeem them that were under the law, that we might receive the adoption of sons." Reformation Bible Church proclaimed this truth at its annual Lessons and Carols Service on December 15.  During the service, men from the congregation read passages of Scripture, and the adult choir, children's choir, men's ensemble, brass ensemble, and flute ensemble all sang or played Christmas songs.
Men's Prayer Meeting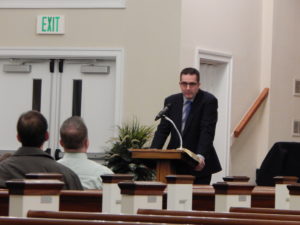 On November 30, RBC hosted a men's prayer meeting. Dr. Stephen Pollock preached a message from Haggai 2:4: "be strong, all ye people of the land, saith the LORD, and work." The men then had a time of prayer, followed by food and fellowship in the Fellowship Hall.
Sr. Citizens' Luncheon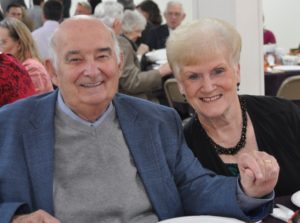 After the morning service on November 10, the RBC seniors met for a delicious turkey dinner in the Fellowship Hall. Young people from the congregation served the meal, and provided special music.
Reformation Celebration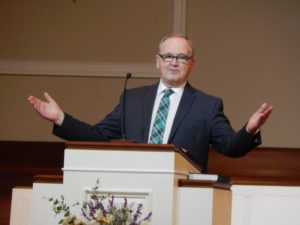 On October 27-30, RBC commemorated the 502nd anniversary of the Protestant Reformation. Rev. Ian Goligher of the Cloverdale Free Presbyterian Church was the special speaker, and several of his messages were on the life of William Tyndale. Services were held on Sunday morning and evening at the regular times, and then on Monday through Wednesday nights at 7 PM. The children's choir, adult choir, men's ensemble, and brass ensemble ministered in song during these services.
ACCC 78th Annual Convention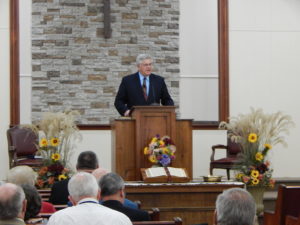 The American Council of Christian Churches held its 78th Annual Fall Convention at the Faith Chapel in Carlisle, PA on October 22-24. The theme of the convention was "Biblical Fundamentalism: Pursuing Purity." Pastor McKnight preached Wednesday night on "The Fundamentalist's Perils," and on Thursday, gave a special breakout session on the life of his father, Don McKnight. Jonathan Peters, RBC administrative assistant, also presented a breakout session on the life of Bob Jones, Sr.
Family Council Fall Hayride
On Saturday September 28, church families gathered at the Taylor Farm in Rising Sun for the Family Council Fall Hayride.  Parents, grandparents, and children enjoyed a time of games, food, fellowship, and hymn-singing.
Men's Prayer Meeting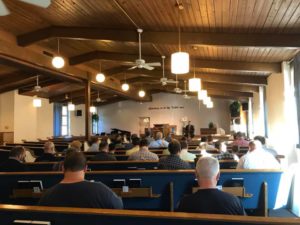 On Saturday September 21, Malvern Free Presbyterian Church hosted a prayer meeting with men from Reformation Bible Church. Pastor Eshleman gave a sermon from Isaiah. The men then had a time of prayer, followed by food and fellowship in the Fellowship Hall.
New Family Sunday and Baptismal Service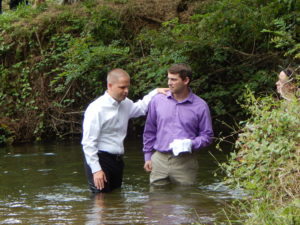 On September 8, Reformation Bible Church had a special Sunday for new families of Harford Christian School. Following the morning service, the congregation headed down the hill to the creek to observe four baptisms.
Church Picnic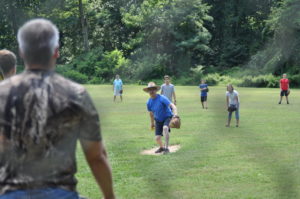 On Saturday August 10, members of Reformation Bible Church and Malvern Free Presbyterian Church met together for a joint picnic at Susquehannock State Park. Families enjoyed playing sports, hiking the trails, and eating catered BBQ.
RBW Day Trip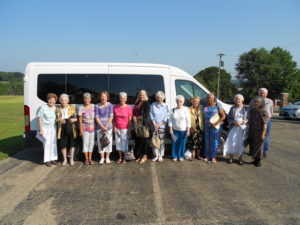 On Tuesday July 30, the Reformation Bible Ladies Group took a day trip to the Bird-in-Hand Restaurant and Stage, where they enjoyed fellowship, lunch, and a show. The ladies departed from church around 9 AM and returned by 5 PM.
Men's Prayer Meeting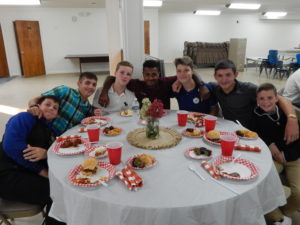 RBC hosted the summer men's prayer meeting on July 27. Members from Malvern and Lehigh Valley Free Presbyterian Churches were also in attendance. Dr. Stephen Pollock preached to the men from II Chronicles 34. The men then spent over an hour in prayer, followed by a time of food and fellowship in the Fellowship Hall.
New Road Sign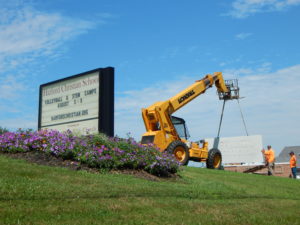 Summit Masonry installed a new road sign for Reformation Bible Church and Harford Christian School on July 22. About three weeks before, they also installed new scripture text panels on the southern exterior wall of the sanctuary.
Free Presbyterian Youth Camp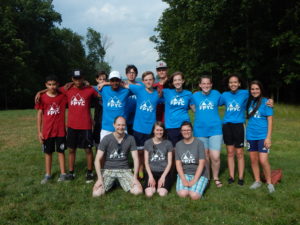 On July 13-20, Miles and Lois Carper and Andri-Ellen Peters led a group of teenagers from Reformation Bible Church to the Free Presbyterian Church Youth Camp at Rock Mountain Bible Camp in Susquehanna, PA. The theme of this year's camp was "Being Faithful as God Is Faithful." Campers had the opportunity to participate in various activities throughout the week, including volleyball, basketball, ping-pong, and Bible quizzing.
Bible Day Camp
On July 8-12, Reformation Bible Church held its annual Bible Day Camps. The Sr. Bible Camp had an Chevy vs. Ford theme. Campers earned points for their team by memorizing Scripture from the Gospel of Matthew. There was also a week-long Bible-quizzing tournament, emphasizing content from this Gospel. Pastor Eshleman led camp devotions each morning, and Julia Smith did chalk talks on John Buynan's The Pilgrim's Progress.
Missions Presentation: Tom Boehm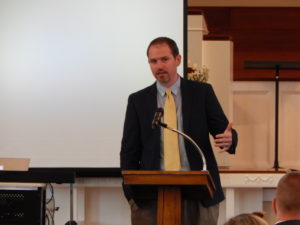 Tom and Stephanie Boehm and their four children were with the congregation, July 5-12. Tom preached in the Sunday and Wednesday evening services, and also gave a missions presentation concerning their work in Italy. During their stay, RBC hosted a Fellowship Lunch in the kindergarten basement following the Sunday morning service.
Special Speaker: Marcus Reyes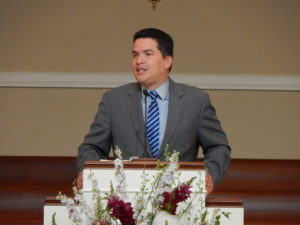 On Sunday morning, June 2, Rev. Marcus Reyes of Iglesia Cristiana Gracia in Orizaba, Mexico preached a message on "The Ministry of Believer-Priests" from Deuteronomy 29.
49th Baccalaureate Service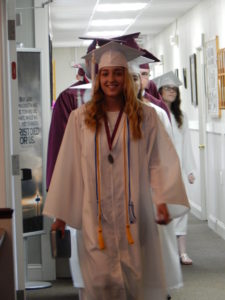 On May 29, Reformation Bible Church hosted the 49th Baccalaureate Service for the Class of 2019 at Harford Christian School. Dr. John McKnight preached to the seniors and their families on a "Sham World, and the Loss of the Profound."
Foundation Brass Concert

The Foundation Brass from Bob Jones University gave a sacred concert in the sanctuary on May 8. The RBC Brass also performed with them for one selection.
Ladies Luncheon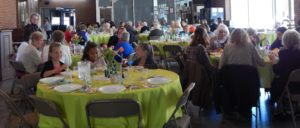 On Saturday April 27, the Reformation Bible Women's group hosted the annual Ladies Luncheon in the chandelier lobby. The ladies enjoyed good food, musical selections from RBC musicians, and a special word from Michele Loeffert.
Jamaica VBS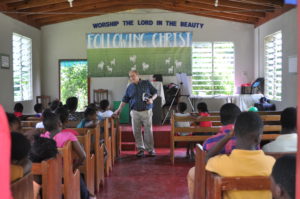 From April 19-26, a group from RBC traveled to Jamaica to hold services on Easter Sunday at Smithfield Evangelical Methodist Church, and Vacation Bible School throughout the rest of the week at Smithfield EMC and Fern EMC (both pastored by Wilford "Meggie" Scott). Once again, Brad and Esther Fleming led the RBC team, and this time they were accompanied by Natalie Myers and Marc and Julia Smith.
Resurrection Sunday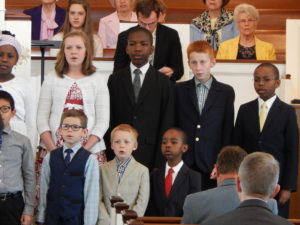 An angel said unto the women at the tomb: "Fear not ye: for I know that ye seek Jesus, which was crucified. He is not here: for he is risen, as he said. Come, see the place where the Lord lay. And go quickly, and tell his disciples that he is risen from the dead" (Matthew 28:5-7). On Resurrection Sunday 2019, the RBC Children's Choir and Brass Ensemble testified in song that Jesus Christ is risen today.
ACCC Spring Rally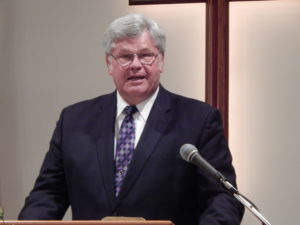 On April 8, the America Council of Christian Churches held its annual Spring Rally at New Freedom Bible Church in Berlin, New Jersey. Executive Secretary Dan Greenfield gave two presentations that afternoon: "Nick Hall and the PULSE Movement" and "Social Justice and Gospel Ministry." Pastor McKnight preached the evening message on "Unity vs. Purity: The Fundamentalist Quest." The following day, Executive Committee members met at the church for a business meeting.
East Africa Pastors' Conferences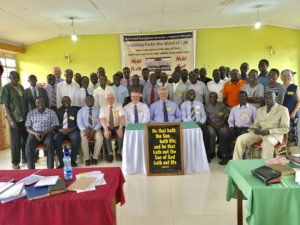 Pastor McKnight, Steve Arnold, and Mark Webb traveled to East Africa in late March/early April to conduct three pastors' conferences in Uganda and Kenya. The focus of these conferences was on "What Happened When Jesus Was Crucified?"
Men's Quarterly Prayer Meeting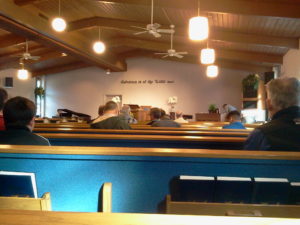 On Saturday March 16, Malvern Free Presbyterian Church hosted a quarterly prayer meeting with men from Reformation Bible Church and Lehigh Valley Free Presbyterian Church. Pastor McKnight gave a sermon from Psalm 15. The men then had a time of prayer, followed by food and fellowship in the Fellowship Hall.