Members from all generations enjoy warm fellowship through a variety of church activities throughout the year. Whether it is enjoying a summer picnic, serving the community or singing Christmas carols on a frosty evening, joy is found in being together with our brothers and sisters in Christ. View our photo gallery of events below and visit our Facebook page for additional pictures.
Men's Spring Prayer Meeting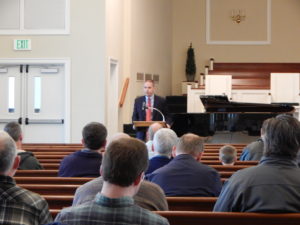 On Saturday April 7, RBC hosted a quarterly prayer meeting with men from Malvern Free Presbyterian Church and Lehigh Valley Free Presbyterian Church. Malvern's pastor, Dr. Stephen Pollock, spoke on the theme of personal revival from Psalm 119. The men then had a time of prayer, followed by food and fellowship in the Fellowship Hall.
Jamaica VBS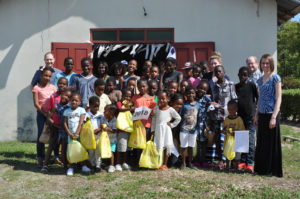 From March 30 – April 6, a group from RBC traveled to Jamaica to hold services on Easter Sunday at Smithfield Evangelical Methodist Church, and Vacation Bible School Monday through Thursday at Smithfield EMC and Fern EMC. Once again, Brad and Esther Fleming led the RBC team, and this time they were accompanied by Leah Edwards and Miles and Lois Carper.
Family Council Winter Fellowship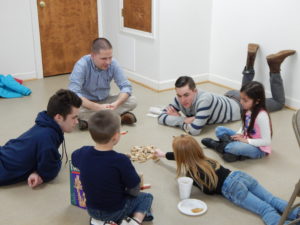 The Family Council held its Winter Fellowship on February 10. At 5 PM, a number of families assembled in the Fellowship Hall for a time of food and games. The evening concluded with a hymn-sing and a devotional.
Fellowship Lunch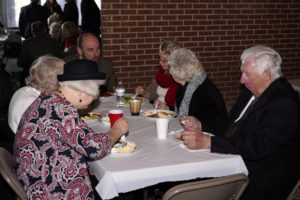 Following the morning service on January 14, families of Reformation Bible Church met up in the Chandelier Lobby for a fellowship lunch.
Christmas Eve Fellowship Meal & Afternoon Service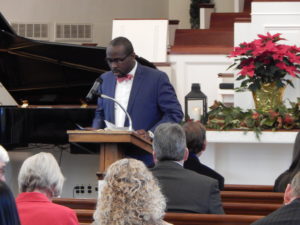 On December 24, Reformation Bible Church had a Fellowship Meal in the kindergarten basement following the morning service. At 2:30 PM that afternoon, families reassembled in the sanctuary for a special Christmas Eve service of song, testimony, and preaching.
Soup & Song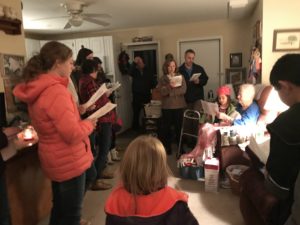 Luke 2:13-14 says: "And suddenly there was with the angel a multitude of the heavenly host praising God, and saying, Glory to God in the highest, and on earth peace, good will toward men." On Wednesday evening December 20, families from Reformation Bible Church spread the good news of Christ's birth in song to a number of seniors and shut-ins. After caroling, families returned to campus to enjoy a time of food and fellowship.
Lessons & Carols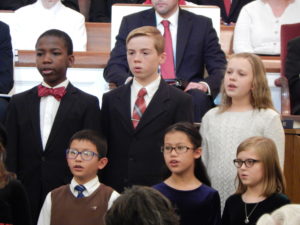 Galatians 4:4-5 says: "When the fullness of time was come, God sent forth his Son, made of a woman, made under the law, to redeem them that were under the law, that we might receive the adoption of sons." Reformation Bible Church proclaimed this truth at its annual Lessons and Carols Service on December 10.  During the service, men from the congregation read passages of Scripture, and the adult choir, children's choir, men's ensemble, brass ensemble, and flute ensemble all sang or played Christmas songs.
New Members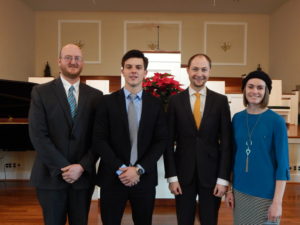 On the morning of December 10, Reformation Bible Church welcomed four new members into the congregation.
Sr. Citizens Luncheon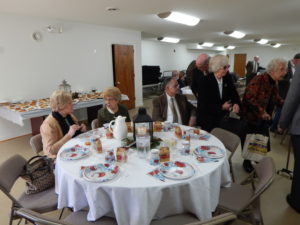 After the morning service on November 12, the RBC seniors met in the Fellowship Hall for a delicious turkey dinner, served by the young people of the congregation (who also provided special music).
Reformation Celebration Services
October 29 – November 1, RBC commemorated the 500th anniversary of the Protestant Reformation with four days of meetings. On Sunday, Rev. Adam Eshleman preached on "The Fallen Believer's Only Standing," and Dr. McKnight preached on "True Protestant Worship." Dr. Stephen Pollock from Malvern Free Presbyterian Church preached on "Patrick Hamilton and the Sufficiency of Scripture" on Monday night, and Dr. Paul Elliott of Teaching the Word Ministries spoke on Tuesday and Wednesday nights on Martyn Lloyd-Jones and "Reformed Separation."
Medieval Feast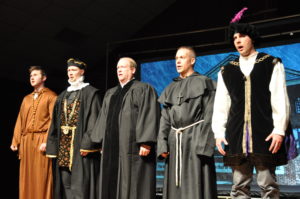 On Saturday October 28, RBC held its 4th annual Medieval Feast, celebrating the 500th anniversary of the Protestant Reformation. Families enjoyed a sumptuous feast followed by a dramatic presentation of the life of Martin Luther.
ACCC 76th Annual Convention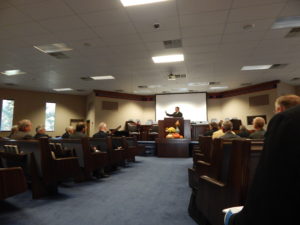 The American Council of Christian Churches held its 76th Annual Fall Convention at Faith Free Presbyterian Church in Greenville, SC on October 24-26. The theme of the convention was "True Protestantism," in honor of the 500th Anniversary of the Protestant Reformation. Pastor McKnight preached a message on Wednesday morning on "True Protestant Worship." Other messages and resolutions from the convention are posted on the Council's website.
Men's Fall Prayer Meeting
R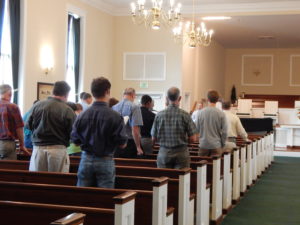 BC hosted the quarterly men's prayer meeting on Saturday, October 7. Members from Malvern Free Presbyterian Church and the Bible Presbyterian Church of Marcus Hook were also in attendance. Dr. Stephen Pollock preached to the men from Psalms on prayer. The men then spent nearly an hour in prayer, followed by a time of food and fellowship in the Fellowship Hall.
Ordination Service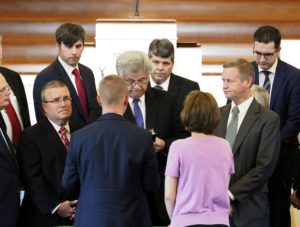 Later that afternoon (September 24) at 3 PM, Reformation Bible Church had an ordination and installation service for Adam Eshleman, RBC's new associate pastor. Dr. David Utter, Pastor Eshleman's uncle, gave the charge to the minister, and Dr. Mark Allison, president of Geneva Reformed Seminary, gave the charge to the congregation. There was a reception to follow in the chandelier lobby of the high school building.
Missionary
During Sunday School on September 24, Dr. David Utter gave a missions presentation on his ministry in the Marshall Islands. Dr. Utter also preached a message on partiality during the morning service.
Family Council Fall Hayride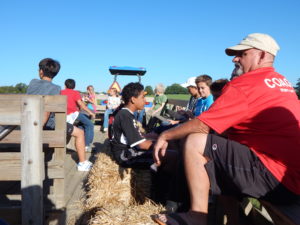 On Saturday September 23, church families gathered at the Taylor Farm in Rising Sun for the Family Council Fall Hayride.  Parents, grandparents, and children enjoyed a time of games, food, fellowship, and hymn-singing.
Special Speaker
On Sunday evening August 20, Rev. Meggie Scott came and preached on II Corinthians 5:14: "The love of God constraineth us." Rev. Scott is the pastor of a church in the Fern District of Jamaica, which the  Jamaica VBS missions team visits every year.
Church Picnic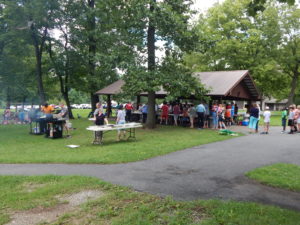 On Saturday August 5, members from Reformation Bible Church and Malvern Free Presbyterian Church met together for a joint church picnic at Susquehannock State Park. Families enjoyed playing sports, hiking the park trails, and eating grilled food.
Missionary
Reformation Bible Church was delighted to host the Bixbys, missionaries to France, the weekend of July 22-23. On Saturday, the Bixbys joined RBC and HCS families for a minor league baseball game, and then on Sunday, Tim taught in the adult Sunday School class, preached in the morning service, and gave a presentation of their ministry in the evening service.
Bible Day Camp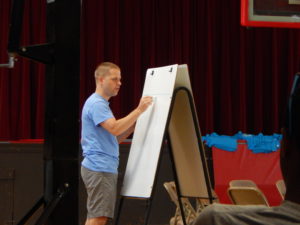 On July 10-14, Reformation Bible Church held its annual Bible Day Camps. The Sr. Bible Camp had an Army vs. Navy theme. About 70 campers earned points for their team by memorizing Scripture from the book of Romans and the first 71 questions of the Children's Catechism. Pastor Eshleman, RBC's new associate pastor, led camp devotions twice each morning, focusing on the book of Romans. The Jr. Bible Camp studied the life of David, and memorized verses about God's wonderful works and offering praise unto God.
Family Council Trip
On Monday, June 26, the Family Council sponsored a day trip to Gettysburg National Military Park. Families toured several sites, including McPherson's Ridge, the Eternal Light Peace Memorial, the High Water Mark, and the National Cemetery. The children also did a scavenger hunt on Little Round Top, and a number later walked the fields of Pickett's Charge.
Ladies Day Trip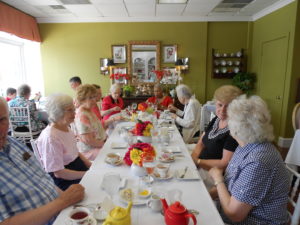 The Reformation Bible Women's Group took a day trip to "A Tea Affair" tea room in Lititz, PA on Monday, June 19.
Special Speakers
On Sunday June 4, RBC was delighted to have two speakers from Faith Free Presbyterian Church in Greenville, SC. Dr. Mark Allison spoke in Sunday School, and Rev. Colin Mercer preached in the morning and evening services.
Commencement
Harford Christian School held its 47th Commencement for the Class of 2017 in the Ziegler Auditorium. Rev. Colin Mercer from Faith Free Presbyterian Church was the keynote speaker, and he spoke on Mark 8:36: "For what shall it profit a man, if he shall gain the whole world, and lose his own soul?"
Baccalaureate Service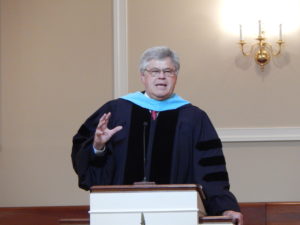 On May 31, Reformation Bible Church hosted the 47th Baccalaureate Service for the Class of 2017 at Harford Christian School. Pastor McKnight preached to the seniors and their families from Psalm 17 on finding satisfaction in God.
East Africa Pastors' Conferences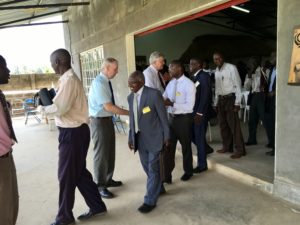 Pastor McKnight and Steve Arnold traveled to East Africa in late April and early May to conduct three pastors' conferences in Uganda and Kenya. The focus of these conferences was on the book of I Timothy.
ACCC Spring Rally
On April 24, the American Council of Christian Churches held its annual Spring Rally at Morrow Bible Church in Centerburg, Ohio.  Before the service, Executive Secretary Dan Greenfield gave a presentation of the Council at nearby Peniel Bible Camp.  The following day, Executive Committee members met at the church for a business meeting.